COVID-19 update: due to the current coronavirus situation, we are taking precautions for the safety of both our engineer and customers.
Our engineer will make use of gloves and sanitiser, and will require the customer to keep their distance, preferably in another room whilst he works on the appliance in question.
Thank you in advance for your understanding.
IJE Domestic Spares and Repairs Market Stall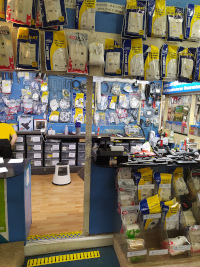 For many years, Ian worked on the stall on aisle 7 of the indoor market, both manning the stall and providing appliance repair services, before going self-employed. Now, with the retirement of the previous stallholder, Ian and his wife Shelli have been able to take on the market stall.
As always, the stall stocks a wide range of spares and consumable parts for domestic appliances - from vacuum bags to heating elements, belts to bulbs, and if we do not have the part you require in stock we can obtain it quickly for you.
The stall also has a range of domestic appliances on show to view and purchase, with free delivery and uplift of your old machine included.
The Stevenage Indoor Market is open Wednesday - Saturday - 8.30am til 5.30pm.
Find our stall in Aisle 7, stocking:
Domestic appliances at great prices, including free delivery
Vacuum cleaner bags, filters, belts, hoses and accessories
Oven/cooker heating elements, bulbs, etc
Washing machine hoses
Cooker hood/extractor filters and bulbs